This site best viewed at 800x600 minimum , high speed connection recommended

The Burleson Sanitarium was in continuous operation from
1899 to 1966,
in Grand Rapids, MI.


At one time it was hailed as the largest institution of it's type in the world.
This site will attempt to give a complete history of the Burleson Sanitarium using mostly primary source material.
The history will be broken down into three time periods:
The Early Years - 1899 to 1928 - During this time the Sanitarium was located first at 103 Monroe Street then in about 1910 it moved to the building pictured on this page
The Depression Years - 1928 to 1937 - During this time the Sanitarium was located on the 12th floor of the Morton House Hotel
In East Grand Rapids - 1937 to 1968 - During this time the Sanitarium changed its name to the Burleson Hospital, and moved to it's own building in East Grand Rapids, Michigan.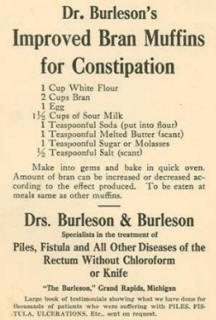 The key to room 425
Updates:

Home Page and Promos page
The History of The Burleson Method
From the book:
"The Burleson Painless Dissolvent Method for Treatment of Diseases of the Rectum"
Published by the Sanitarium in 1910
© 2004-2013 Paul M. Conrad
" The Burleson painless dissolvent treatment for the cure of piles, fistula and all other disease of the rectum without chloroform or knife is my own invention. I established myself in the practice of my own profession in Grand Rapids in 1899 and since that time with the assistance of my brother, Dr. John F. Burleson, I have cured many thousands of cases of Rectal Diseases, including every possible condition (except cancer) that could exist. Our patients first came to us largely from Michigan, but we now have patents come from practically every state in the Union, also from Cuba, Ontario, Manitoba, Alberta, Sask, British Columbia, Halifax and India. We have done some advertising, but our practice has grown largely through our cured patients recommending our treatment to their friends. On account of the great superiority of our treatment our practice has grown until it is the LARGEST EXCLUSIVE PRACTICE IN DISEASES OF THE RECTUM IN THE WORLD. During this time we were obliged to add to our rooms four times and now occupy our own building which is the largest institution of its kind in the world. We offer the references and evidence in this book so that anyone who wishes to investigate can do so. We are so well established and have such a large practice that it is an easy matter for anyone interested to look us up. The evidence is before you, you are the one looking for relief, If you are not interested enough to investigate. you are the one who will suffer and you have no one to blame but yourself. The cure is within your reach, will you grasp it or will you continue to suffer?"
Willard M. Burleson M.D.

I am always looking for items from the Burleson Sanitarium.
If you have any items please contact me: pconrad@burlesonsanitarium.org
Please include pictures and prices!
If you just would like me to give you a date for your piece just send a picture!
Thanks!
Site by:


updated 05/09/2013
All Contents of this site are ©2000-2013
Paul Conrad - All Rights Reserved